Dr Javier Perez
Dental Implant and Oral Surgeon
Lic Odont, PG Cert (Implant), MClinDent (Implant), Dip Oral Surg RCS (Eng), PG Cert Cons Sed
GDC No: 225487
Special interest in Oral Surgery & Dental Implants
Dr Javier Perez graduated in dental surgery in 2010.
His clinical practice is focused on dental implants and oral surgery, from simple single tooth replacements to complex reconstructions involving both soft and hard tissues.
Dr Javier has completed a Masters in Implant Dentistry MClinDent (Implant) in London over three years and was awarded a diploma in Oral Surgery from the Royal College of Surgeons of England, one of the most prestigious colleges in UK.
Dr Perez has trained in Oral Surgery at the Maxillofacial Unit in the Queen Victoria Hospital NHS Foundation Trust in South England. He is at the forefront of dental implants and oral surgery regularly attending National and International conferences to develop his skills and learn about the latest trends in Implantology.
At Dental Care Centre New Cross our implant team have placed over 5000 implants, often undertaking and being referred cases from other practitioners. We also consult and treat cases where you may have been told that you are unsuitable for dental implants. Having assembled one of the countries leading dental implant teams we can treat the most advanced and complex cases here at Dental Care Centre New Cross.
Outside of work Dr Javier spends the majority of his time with his young family, recently welcoming a new son (October, 2021). He enjoys spending weekends exploring London, especially going to local food markets.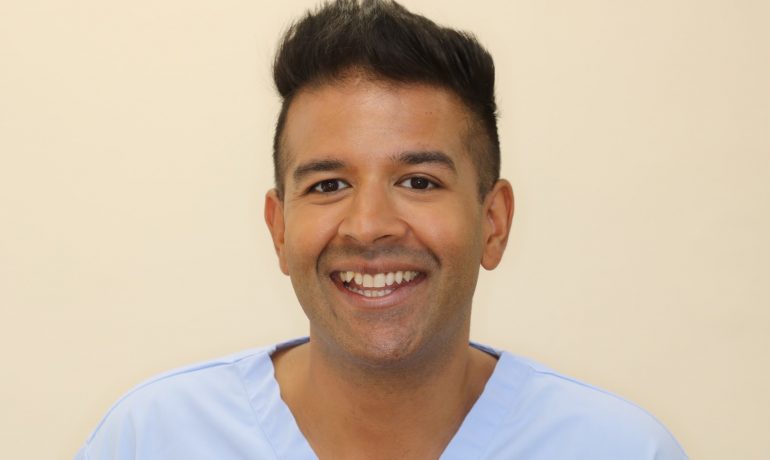 Dr Romain Prasad
Associate Dental Practitioner
GDC Number 85971
Romain joined the practice in 2007 and has 15 years' experience providing both general and cosmetic dentistry to our patients
Romain has a post graduate certificate in restorative dentistry (PG Cert (restorative)) which has enabled him to provide even better dentistry for our patients here at the practice
He is Harley Street-trained in facial aesthetics and Orthodontic treatments and has actively and successfully has performed "Invisilign" and "Six Month Smiles" on our patients here at the practice with a 100% success rate.
His facial aesthetic treatments consists of using botox for anti-wrinkle treatment and dermal fillers for facial augmentation
Romain is passionate about dentistry and a great believer in the need to build good rapport with both patients and colleagues to help patients have the best possible journey to achieving and maintaining great dental health and we are delighted to have him here at the practice with us.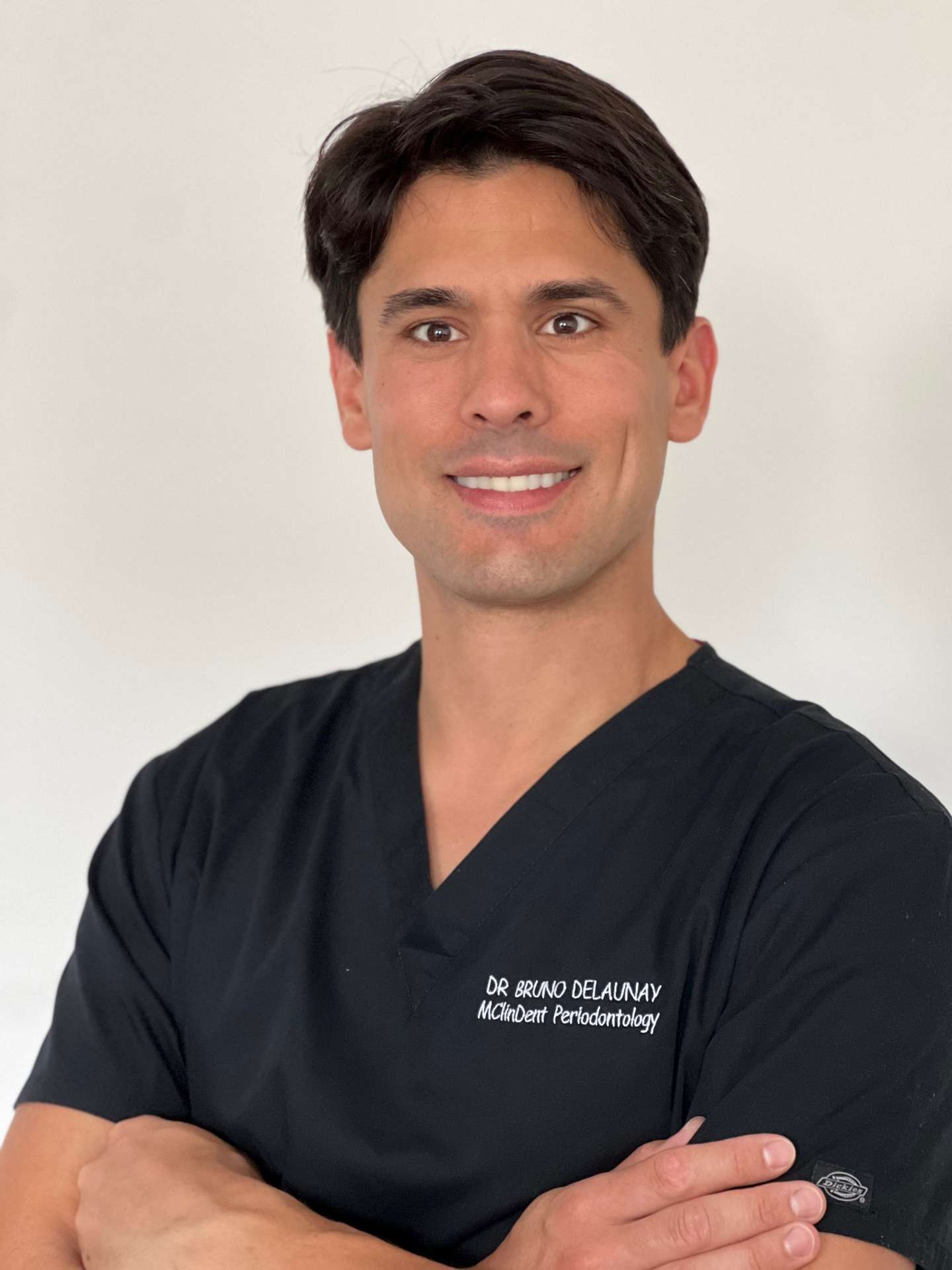 Dr Bruno Delaunay
Periodontist / Gum Health ( Special Interest)
GDC Registration Number:268461
Dr Bruno Delaunay practiced as an aesthetic restorative dentist in private practices around London, and developed his knowledge in conservative dentistry. He obtained a postgraduate certificate in Advanced Aesthetic Dentistry with Distinction from the prestigious Eastman Dental Institute
He then decided to focus on one field and completed a three-year full-time Master's Degree in Clinical Dentistry (MCD) in Periodontology in September 2023 at the Eastman Dental Institute
During his speciality training, Bruno developed his clinical expertise in managing treatments of patients with advanced periodontal diseases using a wide range of treatments from non-surgical therapy up to complex periodontal regeneration. Bruno also acquired extensive knowledge in treating gingival recession and replacing missing teeth with dental implants
He successfully completed the examination for membership of the Royal College of Surgeons of England in 2023
The advanced training he received at Eastman is one of the few international programs accredited by the European Federation of Periodontology
Bruno is dedicated to his patients and aims to provide ethical and high-quality dentistry within a multi-disciplinary approach
Dr Pedro Laranjeira DDS, MSc Aesthet Rest
Aesthetic Dental Surgeon and Smile Design Expert
General Dental Council Registration 273848 Dr Pedro is a master of smile design, smile rehabilitation, smile correction and the go to smile expert amongst our clinic group and his peers. He qualified in dental surgery in 2007 and immediately focused on Implant and Restorative Dentistry. That same year he concluded an implant course in Brazil and his Postgrad in Aesthetic and Restorative dentistry in Lisbon. He then completed his Masters in Restorative and Aesthetic Dentistry in 2010, and also concluded a certificate of higher education in Gnatology in Vienna in 2011. He is a published author of several articles in dental research. He attends several international conferences and symposiums every year, staying on top of modern techniques and technological advances. He is trained in DSD (Digital Smile Design), Dental photography, Minimally Invasive Dentistry, Adhesive Dentistry, and has lectured and given several hands-on courses on placing and restoring implants for the prestigious Nobel Biocare brand. Being passionate about clinical work, he has placed and restored thousands of implants in Portugal, England, Brazil and Bulgaria. Dr Pedro is frequently shortlisted for several award nomination in the UK, most recently having won the 2022 Clinical Case Awards in the Implant: Complex category. He is passionate about providing bespoke healthcare and establishing an excellent relationship with patients, particularly the ones who've had bad past experiences. His focus is on delivering the best possible experience and surpassing expectations. Outside of work Dr Pedro enjoys exploring London and its parks with his 2 dogs.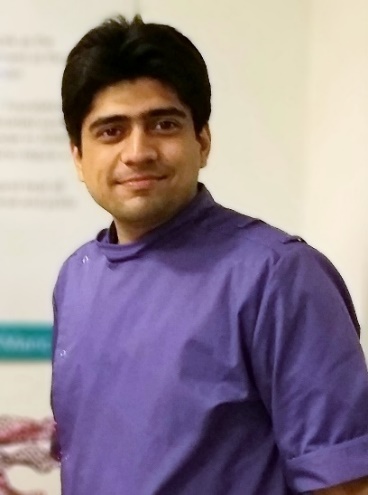 Dr AHMED ALI
Specialist Endodontist
BDS,MSc.(Clin) Endodontics (U.K.),MEndo RCS Ed.
GDC Number 300421
Dr. Ahmed Ali performs all his dental treatments under dental microscope and now accepts referrals for consultations and treatment of complex root canal treatment, root canal retreatment and surgical endodontics, including root end surgery, hemi-section and root resorption repair after given the wide range of Specialist Endodontics training he received at Manchester Dental Hospital, Patients are referred to him at the practice for treatment focused on saving teeth using the latest techniques and materials.
Ahmed qualified with a Bachelor of Dental surgery (BDS) in 2013. . He then worked as an associate dentist in an exclusively private practices for three years practicing in all aspects of general dentistry. Later, he started his 3-year Specialist postgraduate training residency programme in Endodontics (Specialising in root canal treatment) in 2017 at the Manchester Dental Hospital. During his specialist training, he treated patients referred to the Manchester Dental Hospital for complex root canal treatment and Apicectomy procedures. In 2021, he was awarded the degree of Master's in Clinical Dentistry MSc. (Clin) in Endodontics by University of Manchester.
Ahmed successfully completed his Endodontic Specialist training exit examinations (M Endo) at the Royal College of Surgeons of Edinburgh and was elected by the college council as an Endodontics specialist member to the Royal College of Surgeons of Edinburgh.
Ahmed always works closely with referring dentists, and in more complex cases, i.e, patients with multiple dental problems, he teams up to ensure that patients get the best outcome in the minimum number of appointments.
He continues to enjoy treating patients in a kind, reassuring manner in all aspects of root canal treatments and dentistry. Patients can also book a consultation with Ahmed by calling the practice or by booking an appointment online here. (Chose 'Specialist Endodontist' in the 'Reason' drop down menu.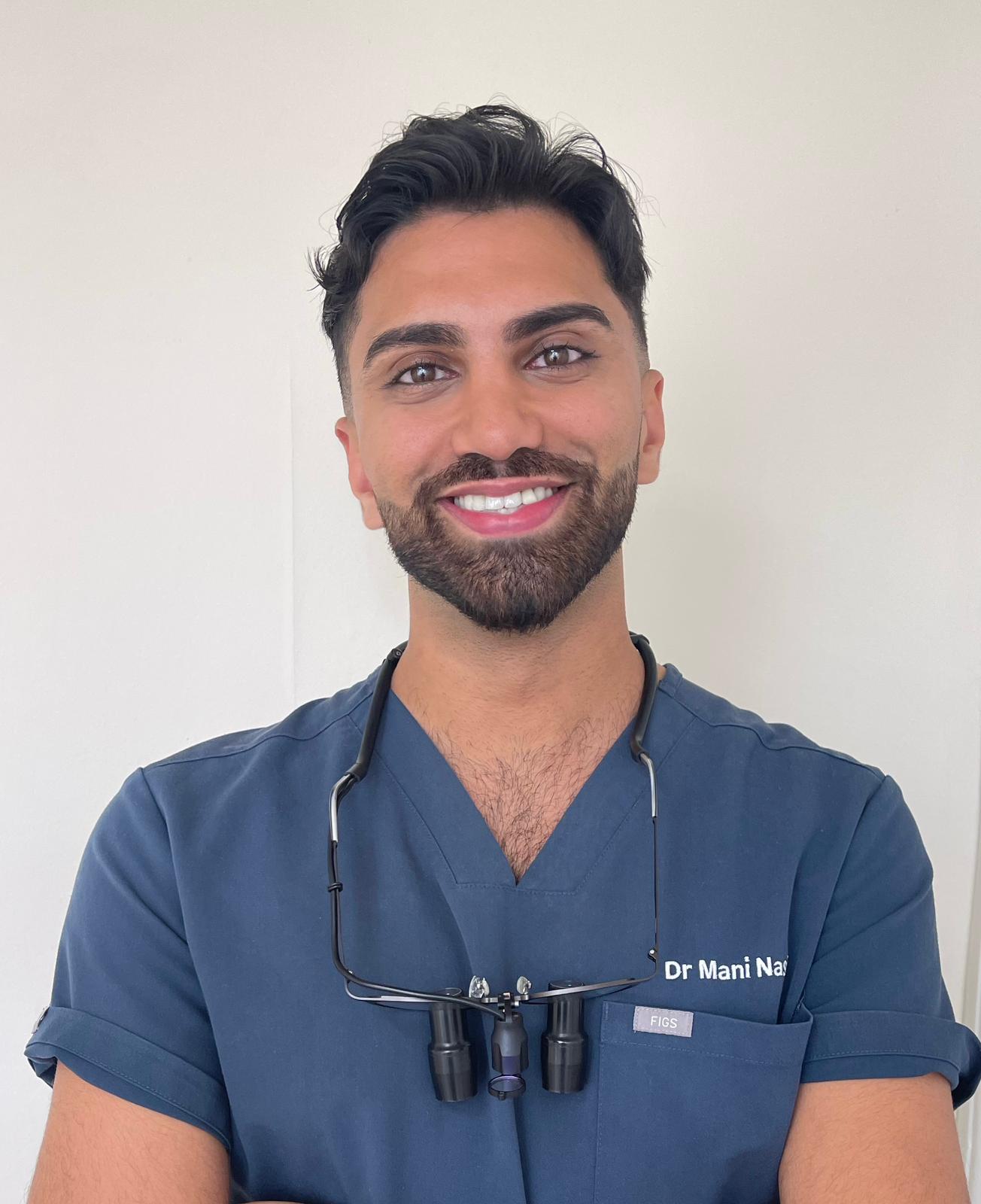 Dr Mani Nasir
Dental Surgeon BDS (Lond)
Dr Mani Nasir graduated from Kings College London, Guy's Kings and St Thomas's one of the world's top dental universities.
He carefully listens to his patients to help them on their tailor-made journey to achieve a healthy, beautiful smile.
After graduating from Kings College London, Mani rapidly excelled his skills and developed a keen eye for aesthetics.
This interest led him to undertake further training at the prestigious Eastman Dental Institute in Advanced Aesthetic Dentistry to offer patients a wide range of treatments
and he is currently in the process of securing a Masters degree in Restorative Dentistry at the Eastman.
Mani has helped restore multiple patients' confidence in their smiles and his calm, compassionate and thoughtful manner works particularly well with nervous patients.
Dr Mani is qualified in facial aesthetics procedures such as dermal filler and Botox to help patients feel their most comfortable and confident.
Dr Jess Harper BDS (Sheffield)
Dental Surgeon
General Dental Council Registration : 302032
Jess completed her dental training at the University of Sheffield, having previously studied Biomedical Sciences at Newcastle University.
Jess enjoys all aspects of dentistry. She particularly likes helping patients build their confidence with dental treatment and enjoys working in a relaxed environment to help put patients at ease, in particular anxious patients and children. Jess ensures that patients have an understanding of all treatment options available to them and is committed to helping her patients improve their oral health.
In her spare time she enjoys keeping active, going to the gym, playing netball and running. Having most recently completed the Sheffield half marathon, her next goal is to complete the Paris marathon next year. She has a love of travelling, experiencing different cultures and cuisines and also enjoys cooking.
Dr Andreas Pachis BDS (London)
Dental Surgeon
General Dental Council Registration : 115763
Dr Andreas has a postgraduate diploma in implant dentistry and can fit short-term orthodontics.
Andreas studied dentistry and stomatology, which is concerned with the mouth and gum disease, and graduated in 2001.
He likes to keep his skills up to date by attending conferences and courses in the UK and Europe. He has completed a postgraduate diploma in implant dentistry (PgDip Imp) with UCLAN (UK) and is able to fit short-term orthodontics such as Six Month Smiles.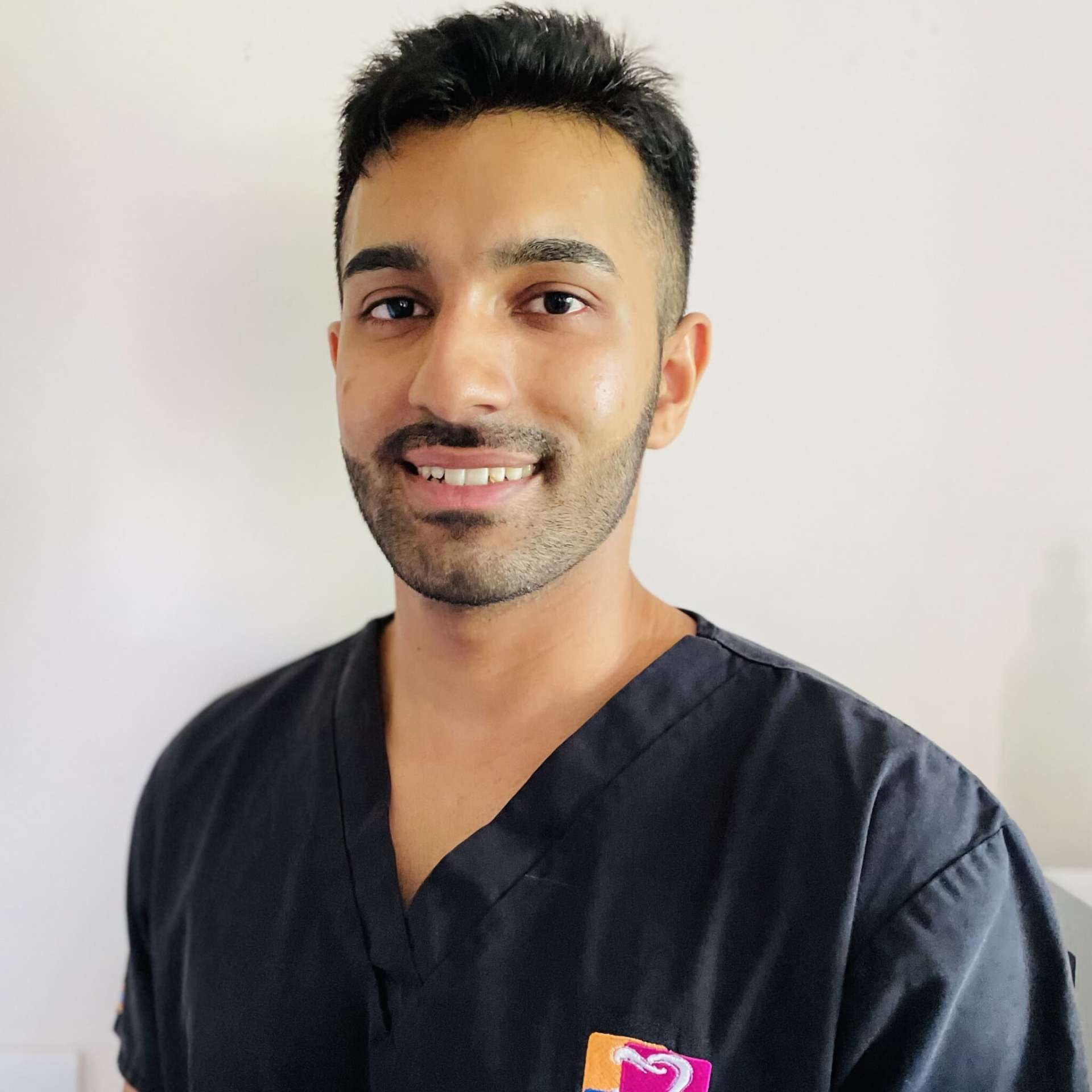 Dr Dhiren Chavda BDS (London)
Dental Surgeon
General Dental Council Registration : 302667
Dr Dhiren qualified from Barts and the London School of Medicine and Dentistry in 2022. He likes to take time and care with every patient and aims to provide the best care possible to everyone he treats. He is passionate about self-development.
In his free time, Dhiren likes to exercise and be active – he hates sitting still and doing nothing. In his down time, he also enjoys reading books as well as comic books and is a big geek at heart. He is a massive Formula 1 fan and is a supporter of West Ham United. He also enjoys travelling and spending time with friends and family
Dariel Fernandez
Dental Hygienist
General Dental Council Registration : 279441
Dariel was raised in Barcelona where he achieved his qualification as a Dental Hygienist in 2015. He moved to London and in 2018 he gained his qualification as a Dental Nurse as well as qualifications in Orthodontic Nursing and Dental Radiography. In 2022 after months of evaluation period, he has registered in the UK as a Dental Hygienist.
His main areas of interest are periodontology, gum health and aesthetic treatments. He loves being a hygienist and is passionate about helping patients to understand the importance of good oral hygiene in the prevention of periodontal disease. Dariel enjoys keeping up to date with his knowledge by attending practical courses and conferences.
Dariel is a big fan of Marvel and DC and he enjoys reading comics, Manga and watching UFC. Also likes going to the gym as well as outdoor activities like basketball, volleyball and running.
Emily Liu
DENTAL HYGIENIST
GDC Registration Number: 277476
Emily graduated the University of Dundee and qualified as Dental Hygienist in 2018.
Her role as a hygienist is to ensure that your oral hygiene is kept to a good standard, your gums are kept free of ginigivits and periodontitis, stains are removed from your teeth,as well as tartar which builds up as soon as 2 days after an area is missed from brushing and then can no longer be removed without scaling at a hygienist appointment.
Emily is currently doing sedation (inhalation) training. She has keen interest in periodontics and paediatric dentistry. Besides her dental career, Emily enjoys theatre and baking.
Dr Fauzia Quadir
DENTAL HYGIENIST
GDC Registration Number: 299904
Dr Fauzia is a dental hygienist here at Dental Care Centre, tasked to maintain and enhance your oral health by oral hygiene instruction, and debridement using a mixture of hand and ultrasonic scaling. We Recommend you visit the hygienist at least twice a year, though some patients attend every 3 months or more frequently. If you have periodontal disease or are a smoker, heavy wine or coffee drinker you may have to attend more as stains and tartar can not be removed with a toothbrush.
Dr Sonal Lakhanpal
DENTAL HYGIENIST
GDC Registration Number: 293507.
Dr Sonal is an expert in:
Providing dental hygiene care
Expert in Airflow therapy
Carry out clinical examination and periodontal examination
Screening and monitoring periodontal diseases using indices
Plan delivery of care for patients
Undertake supragingival and subgingival scaling and root surface debridement
I have been with this dental practice for the past 10 years and have always received excellent care from my dentist Dr. Prasad. I would recommend this dental practice. Friendly service and a dentist who cares for his patients' dental health .
Undine S.
Had an appointment with Dr Romain Prassad today what a lovely and kind dentist really put me at ease and is doing everything he can to help save my tooth thankyou so much ☺️
Tor M.
I would really recommend this Dental Practice. Dr Kolar is a very attentive dentist who cares about the you as a person as well as about the health of your teeth and gums. He takes time to explain the processes he is leading you through, explains how your dental health has progressed over time and encourages you to take care of your teeth. For the first time in my life I look forward to coming to the dentist!
Toby R.
I have been registered at this dental practice now, for just over 15 years. Throughout that whole period, I have been lucky enough to have been looked after by the wonderful, and patient, Dr Prasad. He has covered many procedures in my mouth, from extraction, and root canal, right up to the most recent procedure, Composite bonding of my broken two front teeth. Do not hesitate to register at this practise, as you will be looked after with care and consideration.
During the lockdown period I was able to see Dr Irfan for a dental emergency I had. I'm so grateful that they have been available throughout this. Gillian the practice manager contacted me and offered me an appointment the same day. I am a long standing patient at this practice and cannot thank them enough for great service they have provided to me throughout the years. Great dentist, staff and management. Thank you all so much.
Susan L.
The Dental Care Center has been an excellent dentist surgery that I have been attending as a patient for many years. When I was young I didn't have a pleasant experience with my local dentist on more than one occasion. I found the dentist at new cross dental care center very reassuring and comforting. The management and reception were also very welcoming.
Stewart S.
Really efficient service and friendly helpful staff, clean and fresh environment
Stephanie P.
Great desk staff and Dentists. Excellent with young children.
Spencer M.
Brilliant service from Dr Mansi Patel – she ensured I was well informed regarding my dental issues and spent a whole consultation discussing my dental history and reviewing my previous scans. She provided the means to communicate out of hours, if I had any further queries. She demonstrated empathy and encouraged collaborative decision making throughout. This is a refreshing approach, speaking from someone who's a healthcare professional. Would recommend!
Sonia M.
I had a wonderful experience at Dental Care Centre. Dr Mani Nasir is fantastic, he listened to me, had my best interests at heart and delivered excellent and professional care. Dr Mani & his nurse Kawtar are an amazing team! I also felt very safe with the measures the practice has put in place in light of covid-19. Thank you!
Simran K.